For over sixty years, the World Bible Way fellowship has been a home for Churches and ministers around the world.
HISTORY OF WORLD BIBLE WAY FELLOWSHIP, INC
In 1943, Rev. Guy Shields met with a group of 35 other ministers to form a ministry group of ministers with a shared vision of reaching the world with the great commission.
First called the International Fundamental Christian Association, The organization was headquartered in Oklahoma City for the first two years, Then moved to Dallas, Texas
In coming to Dallas the headquarters was established with the Bible Way Seminary, Inc. which was the Bible Institute of the Fundamental Christian Association. Due to Texas law the two organizations merged forming a new charter and became World Bible Way Fellowship, Inc.
Rev. Shields traveled across the United States, bringing in ministers and Churches to this fledgling organization. He purchased the property and built the first office of the Fellowship with a small handful of volunteers. Until his passing in 1962, Guy Shields was relentless in his pursuit of building an organization that would teach, support and license Pastors, evangelists, missionaries, and teachers.
IT'S PURPOSE
World Bible Way Fellowship, Inc. is an associated fellowship of ministers, missionaries, Christian workers and Churches throughout the world.
This corporation is organized, not for profit and it's prime, principle and all-pervading purpose is to promote and propagate the Christian faith and gospel throughout the world. In addition, it's principle purpose is to promote fellowship, cooperation, protection and recognition and propagation of the Christian gospel at home and abroad and for the purpose of public worship. To ordain ministers and Christian workers to any and all as may be deemed expedient or necessary.
To build up one another in the most holy faith and earnestly contend for the faith. Its churches or institutions are to be absolute sovereignty to handle their own affairs and gives each minister to carry out, his or her, individual vision as God directs. And to assist one another in carrying out the command of the Master to evangelize the world.
In the past 68 years WBWF has had 4 Presidents.



Founder, 

Bishop Guy Shields  1943-1962




Rev. Albert Daly  1962-1974




Dr. Dan Hope   1974-2010




Dr. Kenneth Howe  2011 -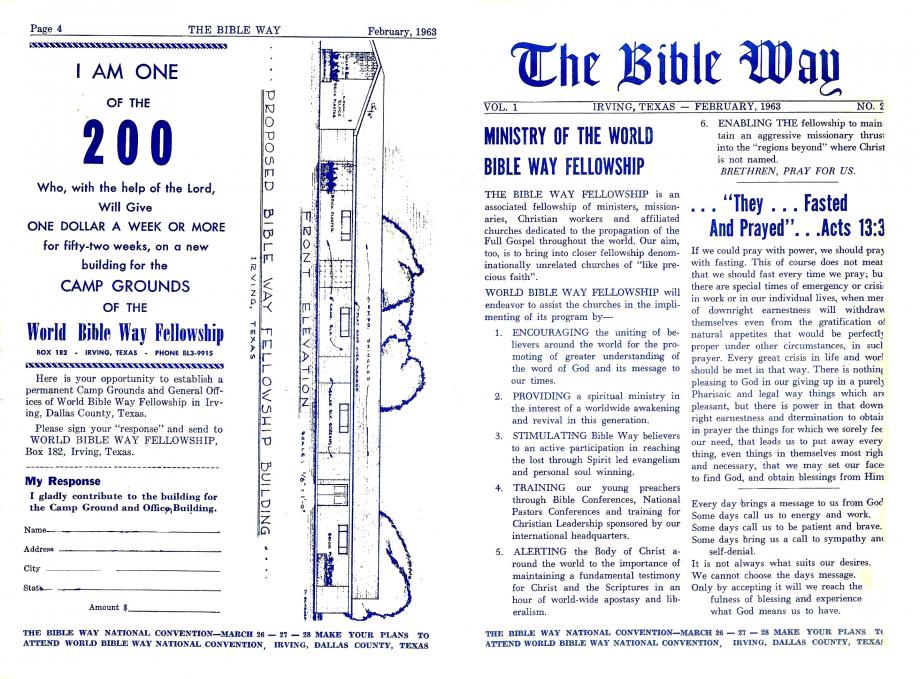 Events magazine originally published as The Bible Way (from 1963)